Anyone here up for a TransGirls Threesome?
For anyone that has never had a threesome with trans girls this is what it would be like. Note the expression on Nina's face. She is already picturing this action.
So you are on the bed knowing that the girls will arrive sometime soon. Most likely you are dressed in shorts and a shirt of some sort. No shoes and maybe with the tv on. You can feel the flutter in your stomach as you await the arrive of the transgirls. As time passes that flutter may grow or it may stop. But when the knock on your door comes it will start again and much stronger than before. As you open the door you are greeted to the smell of sensual perfume. The smiling faces of Keira Verga and Nina StrongHold. Both scantly clad and both make sure to brush close to your body as they walk in!
You can feel Keiras cock packed into her panties as she brushes past and Ninas big tits as they go over your arm and chest. Your cock instantly starts to grow fat and ache for pleasure. The girls do not hesitate they start to strip you before you can even sit down. They know your cock is throbbing and ready. So they work you out of your shorts and expose your cock.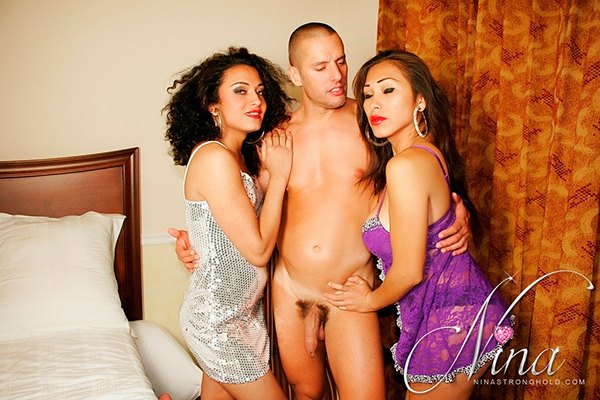 Now that you are naked its your turn to work them out of their clothes. The question is now which girl will you strip first? While girl will you work until her cock is hard? Or will you go back and forth between the two amazing and beautiful TransGirls?